Meadow Brook Amphitheatre | Rochester Hills, Michigan
Hey, Oakland Beach Boys fans! This year, your summer will sound better as the iconic band will be Surfin' their way to Meadow Brook Amphitheatre this August 14. The Rock & Roll Hall of Fame band will bring their "Sixty Years of the Sounds of Summer" tour to the famous Oakland University venue. Come join thousands of other Beach Boys loyal fans in celebrating the longevity of this Grammy Award-winning band by booking your tickets as early as today! Come for fun, stay for the experience, and have the best time of your life as you sing along to the boys' generation-spanning classic hits, such as "Surfin' USA," "California Girls," "Wouldn't It Be Nice," and the multi-platinum "Kokomo." Get your tickets here!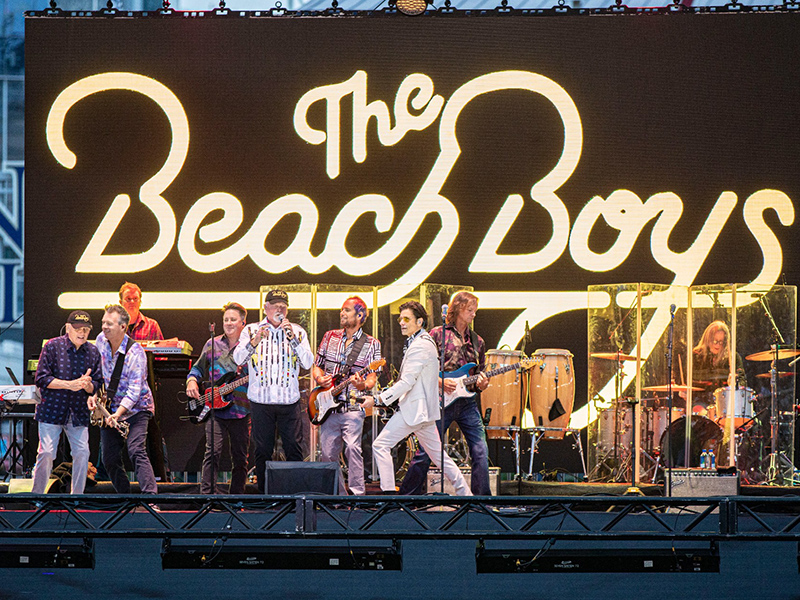 Rock pioneers The Beach Boys undoubtedly have become an indelible part of American music history. Their brand of music, which opened the youth of the early 1960s to experience love, youthful exuberance, and surf culture, was a trailblazer in the music industry. Their incredible musicality and brilliant harmonies depicted laid-back lyrics through sophisticated, pioneering musical arrangements.
Founded in Hawthorne, California, in 1961, The Beach Boys were originally comprised of the three teenage Wilson brothers: Brian, Carl, and Dennis, their cousin Mike Love, and school friend Al Jardine. The Beach Boys signed with Capitol Records in July 1962 and released their first album, "Surfin' Safari," that same year. That album propelled the boys into international stardom, and the rest is history.
Six decades later, over a hundred million records sold, a Grammy Lifetime Achievement Award, and a Rock n Roll Hall of Fame induction, The Beach Boys collectively become a living legend — a title no one would contest.
This year, the boys will be hitting the road to bring their loyal fans one of the most monumental tours this concert season. Dubbed "Sixty Years of the Sounds of Summer" Tour, the Beach Boys will celebrate their six decades of longevity with a string of shows worldwide. Their North American leg will kick off May 6 in Minnesota with other stops in Canada, San Diego, Washington, and other cities. The tour comes on the heels of the debut of the new single "Beach Boys" by country duo Locash featuring The Beach Boys' co-founder Mike Love and longtime bandmate Bruce Johnston.
The band will stop at Meadow Brook Amphitheatre at Oakland University this Sunday, August 14. Don't miss this legendary band performing one of the most highly-anticipated returns to the touring circuit. Click on the "Get Tickets" button to order your tickets now!