Meadow Brook Amphitheatre | Rochester Hills, Michigan
Have you heard? Slightly Stoopid, Stick Figure & Pepper is back and coming live to the Meadow Brook Amphitheatre on Saturday 11th August 2018! Don't miss your chance to be there! Secure your Slightly Stoopid, Stick Figure & Pepper tickets today but clicking the button above.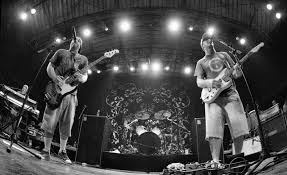 The American group Slightly Stoopid are known for their fusion of elements across the genres from folk to rock to reggae and blues, hiphop, funk, metal and punk, these guys know how to do the cross over. Hailing from California they bring the laid back vibes throughout everything they do. With a mighty album collection and countless live performances that their fans travel far and wide to be a part of.
Slightly Stoopid have taken to the road across North America and globally since their initial records came out, to this day they have played at big stages at major festivals such as; Coachella, Harmony, Lollapalooza, Austin City Limits, and New Orleans Jazz Fest.
Along with this they frequently hop across to perform worldwide in Australia, Japan, Guam, Portugal, Germany, the UK and many more and when they do they are a huge sell out. They have supported and played along side the likes of super stars such as; Damian "Jr. Gong" Marley and the Marley Brothers, Sublime, the Roots, The Expendables, Snoop Dogg… the list goes on.
These guys always put it down to their huge fan base as they fully support the band in all that they do. "Without [the fans], we'd just be playing at the bar," admits Kyle. "They make it worth our while – when we go out and people are having that good of a time, the energy goes back and forth. Just a good time – we rely on each other's energy."