Meadow Brook Amphitheatre | Rochester Hills, Michigan
Think smooth. Bet your bottom dollar, the first thing that comes to mind is Rob Thomas. And yes, that's how he works it on stage — smooth and hell yeah, sexy! Well, quit daydreaming now because Rob Thomas is coming your way live and in the flesh, headed towards the Meadow Brook Amphitheatre on Wednesday 28th August 2019. As he is in the midst of his "Chip Tooth Smile" tour, fans are not only flashing big smiles but are also moving fast to grab those tickets. Wake-up and get moving before these tickets run out. If you snooze, you lose, book your tickets now!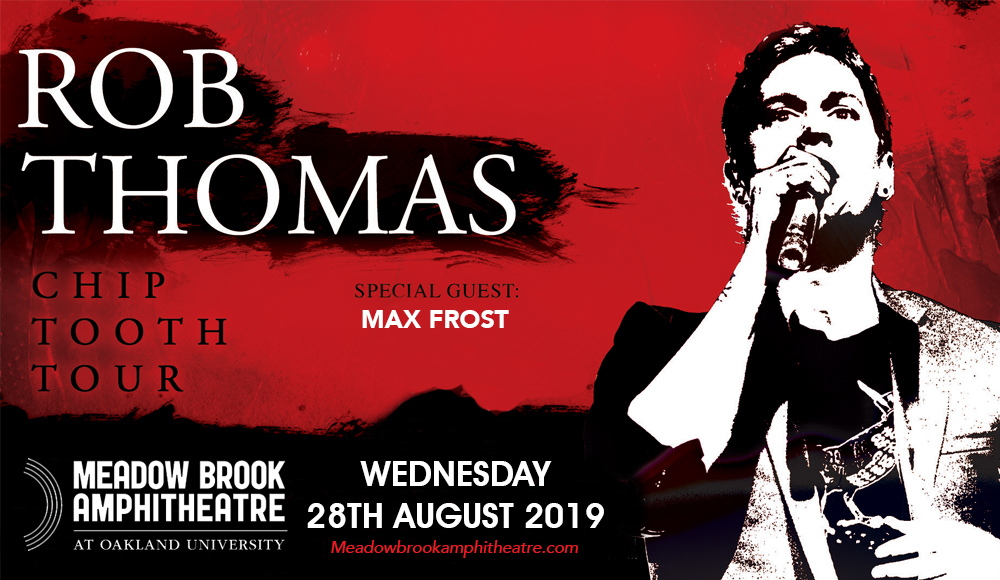 Rob Thomas is every inch a rockstar. Well, he's not your typical clad-in-black, tattooed and with piercings all over. He's a consummate artist with legit rockstar creds. It is a well-known fact that his band Matchbox 20 has released a string of colossal hit singles which include "Push", "3AM", "Real World", "Back 2 Good", "Bent", "If You're Gone", "Mad Season", "Disease", "Unwell", "Bright Lights", "How Far We've Come", and "She's So Mean". And armed with this ammunition, he launched into a solo career that propelled him to equally great heights as well. In 2005 he released his solo debut single "Lonely No More" which made it to number 6 on the US Billboard Hot 100 chart. As a result, his debut album "…Something to Be" made it to number 1 on the Billboard 200 chart.
Yet another springboard that launched Rob Thomas into superstardom as a solo artist was the mega hit single "Smooth". Latin guitarist Carlos Santana put together his comeback album comprised of a a series of duets, entitled "Supernatural". "Smooth" was one of the singles with Thomas writing the verses in collaboration with songwriter Itaal Shur contributing to the chorus. This collaborative single was a massive hit –spending 58 weeks on the Billboard Hot 100 chart, and later ranked by Billboard at number 2 of the Hot 100 songs of all time. And as if this was not enough, the song scooped up three Grammy Awards, for Best Record, Best Song, and Best Pop Collaboration with Vocals.
With all these hits coming your way, this show is sure to be lit! Grab those tickets now!