Meadow Brook Amphitheatre | Rochester Hills, Michigan
90s alt-rock icons Live and Bush have paired up for the Alt-imate tour, coming to Meadow Brook Amphitheatre on Sunday 8th September 2019 for a night filled with hits! The two legendary bands will be joined by support act Our Lady Peace!
"It's an amazing feeling to know that these songs still resonate so profoundly with people," says Live frontman Ed Kowalczyk. "And I still totally get off on celebrating this music with them. With Throwing Copper, we were taking on big things with a big sound. Love, truth, birth, death, philosophy, religion, spirituality…we were asking the perennial questions and poking around for answers with this massive and dynamic sound. It attracted people from all over the world. We were inviting them to imagine that rock and roll could be a valid forum for exploring these types of things…we built it and they came."
"Sixteen Stone propelled us onto the musical landscape," says Bush's frontman Gavin Rossdale. "Those songs have found a way into the soundtrack of people's lives and that is the highest compliment available. We've continued to make music that resonates with people."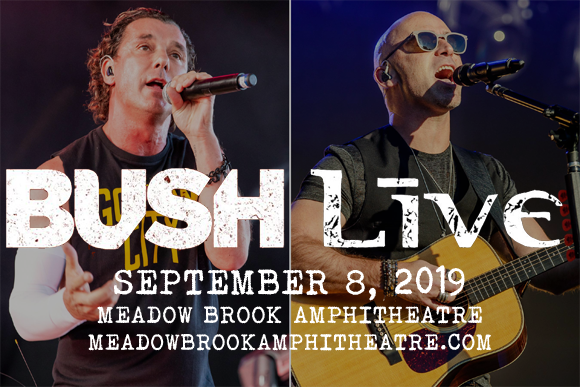 Formed in London in 1992, English rock band Bush consists of lead vocalist and rhythm guitarist Gavin Rossdale, drummer Robin Goodridge, lead guitarist Chris Traynor, and bassist Corey Britz. The band's 1994 debut album, Sixteen Stone, was an instant success and was eventually certified 6× multi-platinum by the RIAA. Their success continued throughout the 1990s, particularly in the US, and they became one of the most successful bands of the decade, selling over 10 million records in the United States and 20 million worldwide. In 2002, Bush disbanded, but they re-formed eight years later, and have continued to tour and record together ever since. The group has had several top ten hits on the Billboard rock charts throughout its career, and one number one album with Razorblade Suitcase (1996).