Meadow Brook Amphitheatre | Rochester Hills, Michigan
The cheeky American singer, songwriter, and record producer who shook the world singing 'I like me better when I'm with you, along to jumpy beat drops is back to bring his bright aesthetics, guitars, and heart-fluttering tracks to the stage at The All 4 Nothing Tour. The man's stopping by to serenade fans at Meadow Brook Amphitheatre with special guest Hayley Kiyoko, on August 13th, 2022. Lauv is set to drop his sophomore album, "All 4 Nothing" this August 5. Just recently, he gave the world a taste of his upcoming studio record with his latest single "All 4 Nothing (I'm So in Love)". So, get ready as Lauv gives it his all at The All 4 Nothing Tour. Book your tickets now!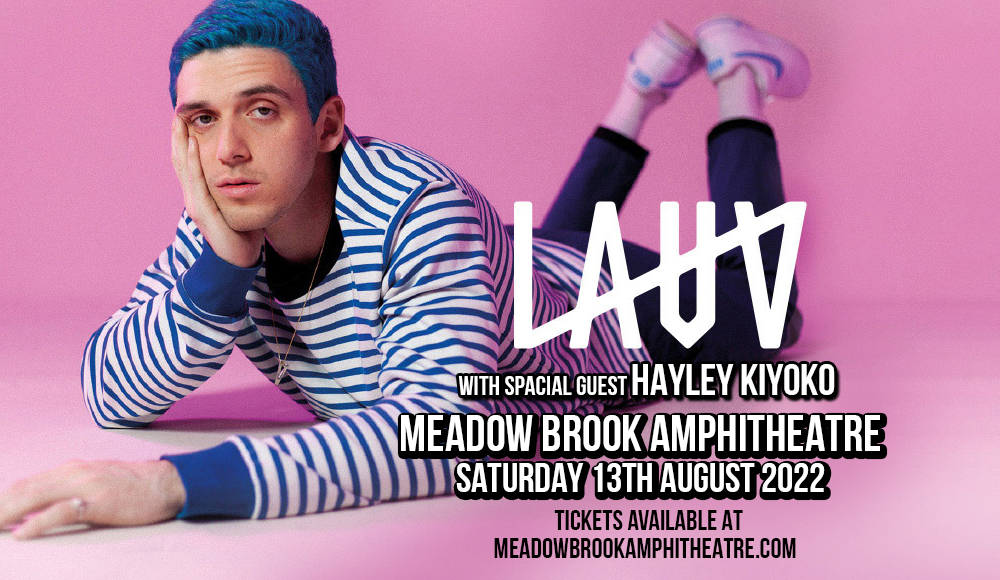 Hailing from San Francisco, Lauv, born as Ari Staprams Leff, spent his childhood in Atlanta before moving to Philadelphia. Early on, he found a special love for music, taking piano and viola lessons, and then learning the guitar after. He started writing songs at age 14, most of which were about heartaches and breakups despite not having a girlfriend. His sister would drive him and his friends on tour, often playing "to zero people".
From zero people, Lauv propelled to reach billions of streams with this 2017 breakout hit "I Like Me Better", earning platinum certifications in 7 countries. The song has garnered over 1.1 billion plays on Spotify.
Though what looked like a guy who came out of nowhere with a viral hit, Lauv's shot at the music industry dates back to 2008 as "Somersault Sunday" when he was 14. He posted songs and covers on MySpace, and played basement concerts.
After a breakup in 2014, Lauv dropped his debut single "The Other" in 2015, posted o SoundCloud, gaining attention online. He released his first EP "Lost in the Light" the same year.
With his global domination in 2017 with "I Like Me Better", Lauv found himself headlining his own tour and then performing alongside Ed Sheeran on the Divide Tour in Asia. From basement concerts and tales of performing to "zero people", Lauv has performed around crowds of thousands across the globe since his breakthrough.
His 2018 compilation album I Met You When I Was 18 (The Extras) featured "I Like Me Better", "The Other" and other new and previously released songs have amassed over 1 billion streams on Spotify. He says it narrates his move to NYC and his first time falling in love.
In 2020, Lauv finally dropped his first full-length studio album "How I'm Feeling". The album brings in his hit singles "I'm So Tired" with Troye Sivan, "Fuck, I'm Lonely" with Anne-Marie, "Feelings", "Tattoos Together", and "Who" with BTS.
Lauv also took part in several other collaborations including "Canada" with Alesia Cara, "Mean It" with LANY, featured in "Slow Grenade" for Ellie Goulding, "if i were u" with Blackbear, a remix of "Kings & Queens" with Ava Max, and so on.
After a successful run with 2020's "How I'm Feeling", Lauv is set to take on 2022 with his upcoming album "All 4 Nothing" scheduled for release on August 5th. Lauv dropped its lead single "26" last January and a second single "All 4 Nothing (I'm So in Love).
"All 4 Nothing (I'm So in Love)" is a song Lauv wrote with "my girlfriend and it's about our relationship. It's really about finding love and a place where I felt like I was really low and suffering from a lot of anxiety" he said in a press conference.
With sweet love taking over, Lauv explored a balance of light and darkness in his upcoming record. "[I was] rethinking a lot of things in my life, finding balance, and revisiting childhood and my innate light," Lauv said in a feature with Rolling Stone.
With a new album right around the corner, Lauv is set to go on tour saying he's "SO EXCITED I'm going on tour so I get to see all of your beautiful faces in person again!!!" in a tweet announcing The All 4 Nothing Tour. Book your tickets now!