Meadow Brook Amphitheatre | Rochester Hills, Michigan
Acclaimed Southern California-bred sister act, Haim bring you One More Haim Tour to Meadow Brook Amphitheatre on Wednesday, May 25th, 2022 with Sasami. The Pop-rock, sister trio are doing their delayed tour in support of their latest album, Women in Music Pt. III, which came out in 2020. So grab some tickets and come and listen to one of on Entertainment Weekly and Slant Magazine's best albums of 2020, live!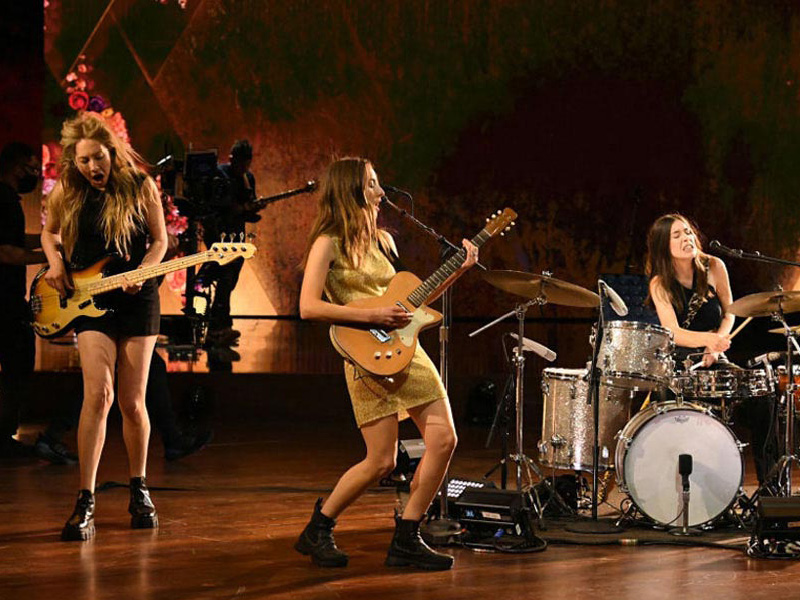 Haim released the latest album, Women in Music Pt. III, in June 2020 as their third studio album, with critics praising its honest and vulnerable lyrics and its experimentation with a wide range of genres, while also paying homage to several other artists. NME called it, "Haim's best album yet. It's bold and brave, but delivered with such confidence and chill that it doesn't feel like a risk. It captures everything that the world knows and loves about the LA group – their nods back to classic rock, harmonious vocals, and breezy way of being – but throws in some new, surprising twists." The album climbed to the number 13 spot on the Billboard 200 and earned the top spot on the Top Alternative Albums, Top Rock Albums, and the UK Albums charts. The album was nominated for Album of the Year at the 63rd Annual Grammy Awards in 2021, and the single "The Steps" was nominated for Best Rock Performance.
Haim are three sisters based out of Los Angeles, California, and are lead singer, guitarist and drummer Danielle Haim, singer and bassist Este Haim, and singer, keyboardist and guitarist Alana Haim. The three have never approved of being "put in a box," as the eldest sibling, Este Haim, said in 2020. "We don't care about genre or sticking to any sort of script," middle sister Danielle confirmed. "We have the most fun when nothing is off limits."