Meadow Brook Amphitheatre | Rochester Hills, Michigan
A Saturday night filled with good ol' blues tunes awaits you this June 24 at the Meadow Brook Amphitheatre as the living legend Buddy Guy brings his "Damn Right Farewell Tour" to Rochester Hills, Michigan. The show is part of the extensive tour of the multi-Grammy award-winning blues guitarist and singer, who will be hitting retirement soon. After seven decades of bringing quality music to the world, the legendary artist will take the last hurrah in performing live, and the famous Michigan venue is one of the lucky venues for the farewell tour. Show your support for the 86-year-old icon this June 24. Get your tickets now and be blown away by how Buddy Guy takes your blues away!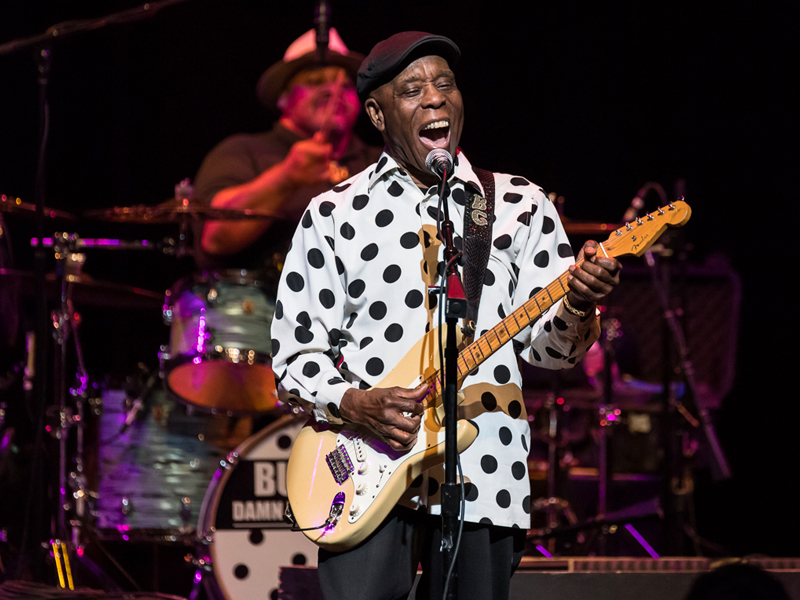 In his seven decades in the music industry, Buddy Guy was able to release 33 studio albums, 15 live albums, 23 compilations, 34 singles, and 7 concert films. His 2022 studio album, "The Blues Don't Lie," is the latest record the blues icon released and was nominated for a Grammy award for "Best Traditional Blues Album." This recognition added to his countless nominations, eight Grammy wins, and a Lifetime Achievement Award.
To date, Guy has been honored by the National Medal of Arts and the Kennedy Center Honors. He was also listed as number 23 in the "100 Greatest Guitarists of All Time" by Rolling Stone magazine. Rolling Stone also listed his song "Stone Crazy" as part of the "100 Greatest Guitar Songs of All Time."
This 2023, the 86-year-old icon will embark on a massive tour all over the country. Billed as the "Damn Right Farewell Tour," the concert tour is the final series of shows Guy will take before retiring from performing live. After seven decades of an incredible run, the icon is finally tipping off his hat. He will kick off his tour midway in February and will stop at many major venues all over the country. With his special guests, Christone "Kingfish" Ingram and Ally Venable, Buddy Guy will stop at Meadow Brook Amphitheatre on June 24, 2023.
Ingram is a Mississippi native blues guitarist who found fame in his early teens. He is known for his debut album "Kingfish" and for recording songs alongside Eric Gales, Keb Mo, and Buddy Guy. Ally Venable, on the other hand, is a 23-year-old blues rock singer-songwriter who has been making waves in the genre. She won the ETX Music Awards' "Female Guitar Player of the Year" for two consecutive years in 2014 and 2015. These performers might be relatively young, but they will surely light up the crowd with their music and guitar-slinging skills before Buddy Guy takes center stage.
Catch this incredible concert at Meadow Brook Amphitheatre this summer. Get your tickets now!