Meadow Brook Amphitheatre | Rochester Hills, Michigan
Two incredible, hit-making, alternative '90s acts, Ben Folds & Violent Femmes, are headed to Meadow Brook Amphitheatre on Sunday 11th August 2019 on a co-headlining tour that's bound to spark a trip down memory lane! With witty, intelligent lyrics and tunes that yearn to be belted out full volume, these two acts are the perfect compliment for a joint tour! Tickets available now!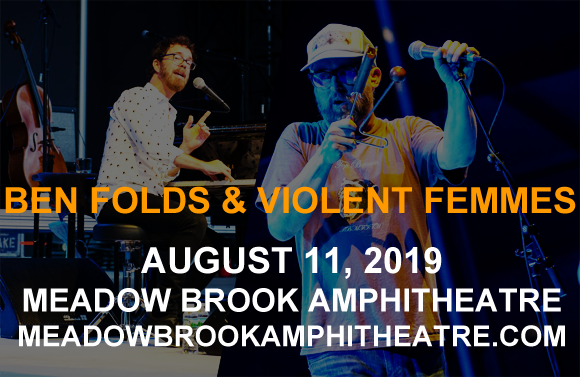 Beginning his career in 1995 as frontman and pianist of alternative rock band Ben Folds Five, American singer-songwriter and record producer Ben Folds is also a renowned solo artist, and has collaborated with a vast array of musicians, artists and writers including William Shatner, Regina Spektor, "Weird Al" Yankovic, Nick Hornby, Neil Gaiman and more. In 2000, Ben Folds Five disbanded and Folds began a solo career, releasing his debut solo album, Rockin' the Suburbs, the following year. As a solo artist, he has released three albums and three EPs, and with Ben Folds Five, who reformed in 2011, he has released four studio albums and one live album. He producer Amanda Palmer's debut album, Who Killed Amanda Palmer (2008), and from 2009 – 2013 he was a judge on the NBC a cappella singing contest The Sing-Off. Folds currently has the role of Artistic Advisor to the National Symphony Orchestra at the Kennedy Center in Washington, D.C. and in 2017 he wrote the soundtrack for the Netflix original film Handsome.